Well I know what comes in third
after yarn and knitting books…knitting implements. I saw a classified in the local free weekly advertiser, which included some quilting stuff plus KNITTING NEEDLES, $30. There was an e-mail address in the ad, so I sent one off, inquiring if it was straights, circulars, DPNs, or what. The advertiser quickly responded back that it was all of the above. So I told her that I would be by later in the week to pick up said needles. Today was my chance before Big Bro K's basketball game, and oh-so-conveniently this person lived quite nearby there. She said she had used to have a knitting store a long time ago in Wisconsin, and she had used to knit professionally, but her wrists gave out and she can no longer do it. Poor woman! She had a large narrow box and another baggie with a few more. So here is what I got…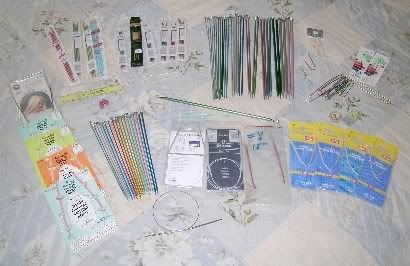 13 stitch holders of various sizes


3 small boxes of stitch markers


2 cable needles


1 unopened package of yarn bobbins


7 inch plastic ruler


A pair of point protectors


A couple white plastic things that I am assuming are needle threaders for yarn


A double-ended crochet hook…I've never seen such a thing before! I don't even know what size hook it is, but it's pretty large, 14 inches long.


A tiny plastic size F crochet hook


14-inch aluminum needles in sizes 1, 3, 4 x 2 pairs, 5, 6, 7 x 2 pairs, 8, 9, 10, 10 1/2 x 2 pairs, 11, 13, and 15.


10-inch aluminum needles in sizes 2, 4, 6 x 2 pairs, 7 x 2 pairs, and 8 x 3 pairs.


7-inch aluminum DPNs in 2, 3, 5, 6, and 8 in sets of four, prices on them from $1.95 to $2.25


7-inch Crystal Palace bamboo needles in size 2.5 (3 mm), set of 5, with an $8.50 price tag on them!


10-inch aluminum DPNs in sizes 5, 6, and 7, and turquoise plastic in size 9, sets of four each. I don't think I recall seeing 10-inch DPNs before either!


Size 3 24-inch Boye aluminum circulars – the picture of the girl on this package is hilarious, it reminds me of something that would be on a feminine hygiene product in the 1970s, with price tag of $2.25


Size 4 Susan Bates all plastic circulars in 16" size 4, 29" size 7, 36" size 8, price tags from $2.75 to $4.00


Size 4 20" Addi (probably predate Turbos, but they are very similar), price tag of $8.50


Unknown brand, metal circulars in size 6 29" (Inox maybe), and size 8 29" (guessing Boye)


Size 10 1/2 36" Susan Bates Quicksilver circular, price tag of $6.00


Inox circulars, 16" in sizes 6, 7, 8, and 9


Whew! Does it mean you are an addict if you hide an object/s in your vehicle to bring in AFTER your spouse has left the house? 'Cause that is exactly what I did! I'm thinking I'll put the straights up for trade on Knitting Help, along with a few other odds and ends from my stash (for exactly what, I'm not sure…I'm thinking KnitPicks gift certificates to go toward some Options…maybe…). I love 16-inch circulars, so I'll keep those, and I really wouldn't expect anybody to be interested in the all-plastic ones, but you never know. I'm sure they are vintage judging by the label. I think I would keep the DPNs too, some of the packages don't even look like that they have been opened.
Here is the first Special Companions bag before and during blocking, literally, those are some of the kids' wooden building blocks in a baggie, with a quarter for size reference.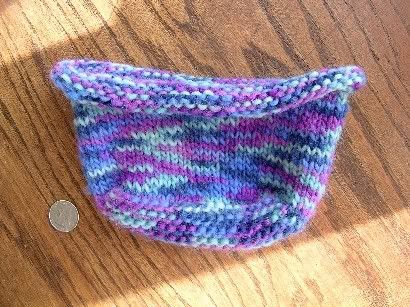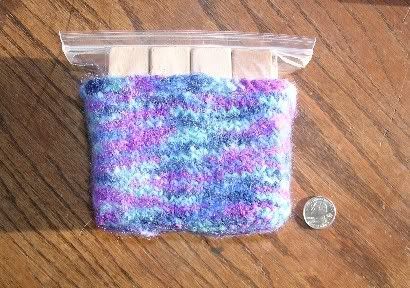 They go really quickly and easily, I was knitting some of this in almost complete darkness, lying in bed watching Jay Leno. I have been using my 11" size 10 circulars, little freaks of nature that those needles are, yet I have ended up using them for a lot of things! I think I have enough yarn left in the skein to do one more, then hopefully enough I-cord for both. The pattern calls for the twisted cord, but I think I like the I-cord better, or else I could use something like a ribbon if I don't think I will have enough. I'm going to do another pair in some of the SWS I have, since I have heard it felts like lightning, and maybe if I can get to town again soon, see if the quasi-LYS has some of the Paton's Classic Merino on some of the variegated colors, since they didn't at Joann's. They did have some felted purse kits a Joann's but after doing the math, even with a 50% off coupon, the Felt-It would still be cheaper and I could get another color.
I'm also knitting from a chart for the first time on these
Warm Braid Cable Wristwarmers
! Although the pattern isn't that terribly complicated, and the way it printed out over two pages, I still have to refer to each to remember which symbol refers to what stitches.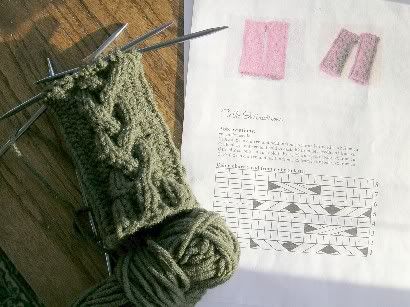 They are going to be a gift for a Secret Santa type swap, and I plan to make a headband to match. I'm using the Kool Wool in "Khaky" (more of a deep olive) I was able to pick up cheap at Hobby Lobby, and I think one skein each should do it for each wrist warmer and the headband. I really like these, they are quick knit with the bulky yarn. Another KH person had made them, and she added a thumb on (it's just basically a buttonhole), so I plan to do that as well.