So even though
I have a gazillion other things I should be doing…I blog.
I was able to get four out of six Special Companion bags done. I needed to have them all done by early Thursday afternoon, and I just didn't see (on Wednesday) how I would have been able to get the last two done. I got exactly two out of one skein of Felt-It, and used some narrow satin ribbon for the handles. I really like how the SWS one on the left turned out too, others were right, it does felt in a flash, just one trip through my front-loading washer did it! I did a single-crochet felted cord for the strap for this bag, it was much quicker than doing an I-cord yet still in proportion. I also managed to get one done in the Patons Classic Merino in "Regency" on the far right. Isn't it wild how the colors pooled? That one I had made a bit wider 25 stitches for the base, and probably a bit shorter than the others since I was in a hurry to get it done and felted. I ran it through the wash once Wednesday night, and kind of decided at the last minute to put it through again Thursday morning, and I am glad I did, it really firmed up nicely. When I went to the quasi-LYS to get the Patons Classic Merino, they had two more colors of the SWS, Natural Plum and Natural Geranium. Sooooo tempting. But sooooo pricey, at least by what they had it marked, $7.99 a skein. And I really want to see the Natural Pink too, I think I'd like it better with the hint of green. But it did sound like the lady was going to order more, what they had been getting in had been selling quickly. One odd thing though, just in doing the very small bag in Natural Navy, I had THREE knots/reties which broke the color sequence in not even the first half of the skein. Very strange.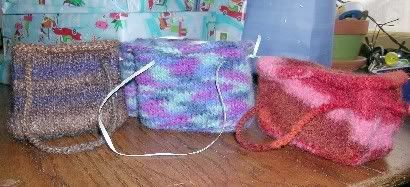 For the last two teachers, I decided instead knit them up some tiny sweater ornaments from the
Miniature Sweater Ornament pattern
with an orphan skein of Lion Brand Magic Stripes in Jelly Bean. I did tweak the pattern a bit, I did the sleeves in the round instead of seaming (can you blame me?) and on the second one I did a different increase for the raglan and just did a garter stitch hem instead of the K1P1. I also used size 3 needles instead of size 4, so I had to add more rows than the pattern called for. The hardest part was finding the yarn pattern to make the sleeves match! I was able to get one done in time, but the other I was still working on the body and didn't get it done until school was out, so I think I'll put it in the mail on Friday, she should get it by Saturday. I'm already thinking ahead for Valentine's Day, red felted heart shaped coasters…how does that sound?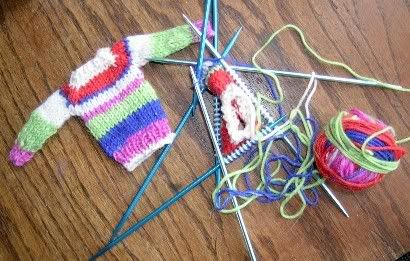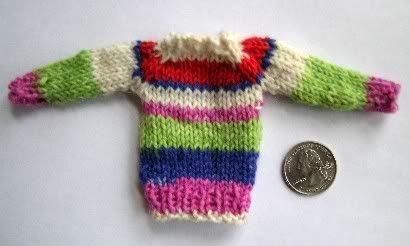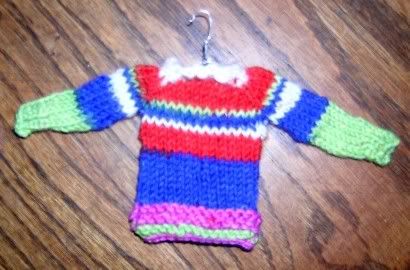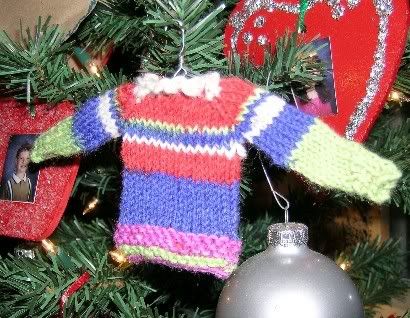 I did get the Warm Cable Braid Wrist warmers done and sent, but didn't have enough time to get the coordinating headband done, so that will be done later and send…hopefully my secret Solstice swap partner doesn't mind! I think the left is a teeny bit smaller than the right, but the right might be stretched out from trying it on so much. I really did like how they turned out though.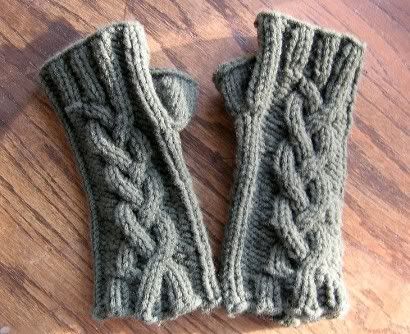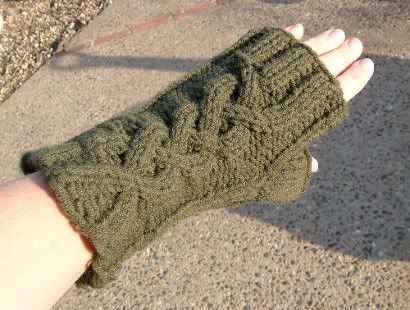 I haven't decided yet about what to do about some other gifts. I should do something for my grandma, aunt, and uncle. I think for my cousin's family, I will put together a "cookie kit," usually we give each other a whole-family type gift, like a movie and popcorn, and last year I gave them a "sundae kit." I think I could probably knit a hat for my uncle in time. I'd really like to do a nice scarf or cowl for my aunt, but I probably wouldn't have enough time. I could do a couple dishcloths for my grandma. We'll see! I'm researching scarf patterns right now that are quick, but not drop-stitch, I just am not crazy about drop-stitch patterns, looks like a lot of snag potential to me!
My mom called the other night too while she was at Goodwill, apparently there was some Patons "Jenny" which I am pretty certain is long discontinued, and some Lion Brand Wool-Ease either Chunky or Thick & Quick, and some Bernat Soft Boucle there, so she picked them all up for me! Yay! I am thinking about a yarn diet for a New Year's resolution, but we'll see how long that lasts! LOL I'm hoping to get back to the At Home Store in Fairfield some time over Christmas break with another knitting friend, so there will be definite temptation there! I really should reorganize my stash tub and weed some things out and put up for trade, along with all those extra straights I picked up.